Guidofruit located in Brussels, Belgium imports for over half a century fruit coming from various fruit regions such as Spain, Italy, France, etc.
The company was founded in 1963 by Guido Heerman together with his wife, his follow-up is guaranteed by his sons. In the meantime Dirk Heerman and Guido Junior Heerman are committed to bring as a family company fruit of superior quality day-after-day.
Partnerships with fruit manufacturers from Spain, Italy ,..
Guidofruit works directly with manufacturers from abroad. This allows us to always import the most beautiful and tasteful products into Belgium. Throughout the years we've build profound relationships abroad. On a daily basis we are in contact with our local manufacturers, so we always have access to the most accurate Information.
The majority of our fruit products come from Spain or Italy, but more and more we also important fruit from overseas.
We mainly market seasonal products because we are convinced that these products will guarantee optimal quality. Our fruit are ea. strawberries, grapes, oranges, clementine, peaches, nectarines, cherries, melons, etc…. furthermore we also offer a broad range of Spanish vegetables.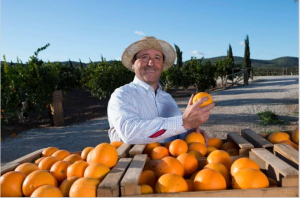 The European centre of fruit and vegtables in Brussels
We offer our imported fruit for sale in the European centre for fruit and vegetables in Brussels. We deliver to several wholesalers to the different provincial markets, as well to exporters, supermarkets, stall owners and retailers (shop owners).
Every day our customers can come and visit our warehouses in Brussels, here they can take a look at our fresh products. We always make sure that our products are sold at a correct price both for the customer as for the manufacturer. Furthermore we try to offer a returning range of products and brands to guarantee our customers they can always buy their trusted brands and quality.