Citran
Citran is a collaboration of several production families in the region around Sevilla, Spain. In 1982 the families decided to set up a collaboration concerning the production and commercialization of their fruit. This turned out to be very successful, today they are the reference in Sevilla. They offer a wide range of top quality fruit.
Sevilla
All their plantations are located in and around the Spanish city of Sevilla, the hottest city in Europe. Due to this location we can already sell Nectarines and peaches of superior quality in May and April. We sell them under the brand name Valerita.
Peaches and nectarines Valerita
Guidofruit markets since several years peaches and nectarines of Valerita in Brussels. This fruit is available early season and of superior quality.
Color, taste, sugar,… this are just some of the assets of Valerita.
In Brussels we distribute the following varieties of Valerita's Stone fruit:
Yellow nectarines
White nectarines
Yellow peaches
White peaches
Paraguayo
Apricots
Plums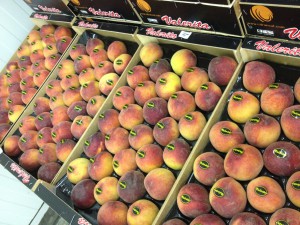 Citrus
Citrus is the base of Valerita, We distribute Navelina as well as Salustiana and different varieties under the brand name Valerita.
Sanguinelli Valerita
This fairly new kind of blood oranges

distinguishes itself by its beautiful
red color of the fruit flesh
and the red blush of the peel.
It is the fruit that revived the
citrus market the last years.
Contact us
Interested in fresh fruit of Valerita for your supermarket, wholesale or retail? Feel free to contact us or we can bring you in contact with a wholesaler in your neighborhood.
Contact us